Southeast Pennsylvania

Certified Siding Repair
---
Certitude Home Improvements provides exceptional home repair and home improvement services for Southeast Pennsylvania and the Main Line areas. Our skilled contractors specialize in professional roofing, siding and window replacement services for homeowners. Certitude uses the best materials and techniques for long-lasting, attractive solutions.
Certitude prioritizes education. Since our opening in 2010, our contractors consistently attend industry conferences for continual training and re-certification. All of our technicians are fully licensed to carry out our services. Home improvement education is important for staying on top of industry standards, which we strive to exceed. Our contractors extend their knowledge to customers and thoroughly answer all questions with enthusiasm!
Let us use our experience, tools and skills to eliminate your home exterior problems. Our results promise a safe, beautiful home that you're proud to own. Certitude services the Pennsylvanian communities of West Chester, Wayne, Malvern and surrounding areas.
Our Owner
Ryan Dean began working in the home improvement industry in 1995 when his uncle Howard Taylor, owner of Keystone Roofing, hired him as a laborer. Ryan learned that hard work, punctuality and true dedication are essential for running a successful home improvement company. Over the next fifteen years, Ryan gained valuable experience and worked with the best and most established contractors in the industry.
Ryan founded Certitude Roofing Siding and Windows in 2010 with the skills and principles he'd gained over the years. The new company's top priority was to offer the highest level of service to all customers. Certitude would never sacrifice quality or customer satisfaction to make a profit. To this day, Certitude Roofing Siding and Windows strives to give customers the very best in craftsmanship and customer care.
Outside of work, Ryan enjoys spending time with his wife and four children (two boys and two girls). They enjoy dinner together every night despite their busy lives.
The Certitude Difference
By definition, Certitude means "absolute certainty" and "freedom from doubt." Certitude sets the bar for doing work the right way. We're passionate about delivering quality work and won't cut corners. To ensure our customers the best service, we offer multiple material choices and use state-of-the-art installation techniques. We utilize the latest technology to provide the highest level of customer satisfaction. Our commitment to you does not end with the sale. Certitude's results satisfy homeowners for years to come. Certitude Home Improvements and all employees promise to make a difference!
Our Technology
Certitude Home Improvements uses advanced computer systems to show the entire home improvement process from the initial appointment to job completion. Our custom presentation app displays all available options through a customized approach. Our custom estimation app shows standardized pricing, materials and designs suitable to your lifestyle. View up to 15 materials on the app! We program the app to include your home dimensions. The app is available for your personal use after the consultation.
Certitude offers a digitized approach for less paper usage and convenience. Customers sign papers digitally and receive contracts via email. We use this approach to deliver results faster.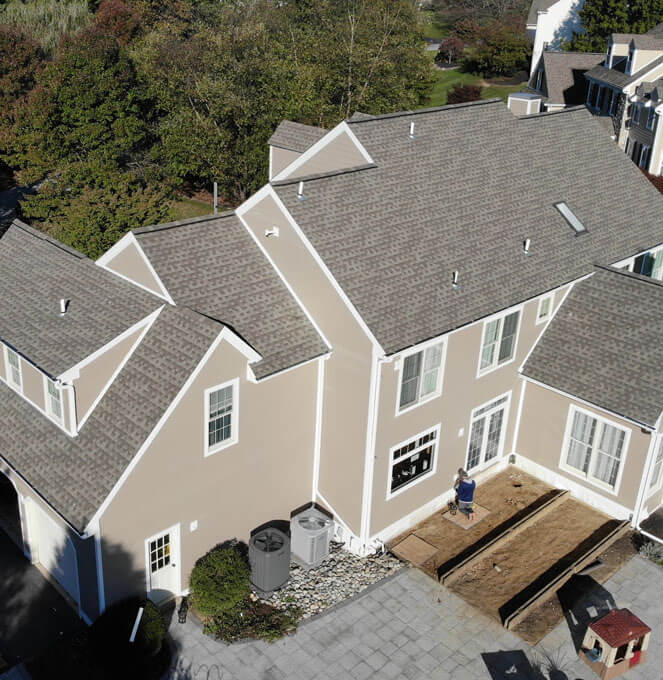 Community Involvement
Here at Certitude Home Improvements, we believe in taking part in our neighborhood and giving back to the people who support us. We are proud to sponsor the local youth wrestling team. Recently, we sponsored a local wrestler for the state competition. We always seek opportunities to get involved and show our community that Certitude cares!
Affiliations
I was pleased with the entire new roof process. The estimator was helpful, the estimate was clear, easily understood and the price was right. On the scheduled day the crew arrived on time, the job was done, roof looks great. I was especially pleased that although they removed two layers of old shingles, I found very little debris over the next week while doing yardwork. I would happily recommend Certitude Home Improvements to family and friends.
- John Orlando
Totally professional. Great quality work. Fast service. Always available for communication. Owner gave me his personal cell number in case there were any problems. Not one problem arose. Job done in time specified. Highly recommended company! Company was not the most nor least expensive of 7 estimates.
- James B.
Certitude came to do the estimation one day after I called and that same day they sent me the detailed estimation with very reasonable price. They communicated well to me with the day and time when they will be there to replace the roof. I'm very pleased with the job they have done and definitely I will use them again.
- Zhe R.
Total professionals from the first sales person to the final cleanup. Work was excellent. Price was great. Each step of the vinyl siding process was completed on time. They even installed the rain gutters in a pouring rain to prevent it from running down along the foundation. We could not be happier with the result.
- Lawrence J.
We needed a new roof for years . They replaced it in one day . From what I can see it's perfect . They also custom made four sky lights …..I love them ! The workers were very polite and helpful .My neighbor had a small part of his roof repaired a few days later and it took days .I'm soooo glad Certitude replaced my roof!
- Beverlee T.