Southeast Pennsylvania

Siding Replacement & Installation
---
Made primarily from PVC (polyvinyl chloride) resins, vinyl siding offers the advantages of affordability, immunity to mold and moisture damage and plenty of styles, textures and colors to choose from. Read More Vinyl siding is nearly indestructible and is designed to retain its color even during extreme exposure to the elements. Get an outstanding siding product with no painting or maintenance requirements. The only expense you need to worry about is the cost of installation. Improve your home's value and curb appeal with new siding from Certitude Home Improvements. Certitude is Southeast Pennsylvania's one-stop shop for all siding installations, replacements and repairs.
House Siding Options
Certitude offers siding from leading manufacturers such as James Hardie® and CertainTeed. No matter what type of siding you're looking for, you're sure to find one that suits your aesthetic and functional needs.
Vinyl Siding
CertainTeed is a leading North American manufacturer of building materials and specializes in the production of high-quality siding products. Any look – historic to contemporary – can be achieved with CertainTeed vinyl siding. Vinyl siding has the widest variety of style and color offerings of any other exterior siding, including: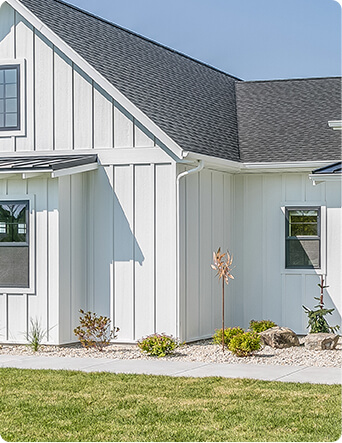 Horizontal & vertical panels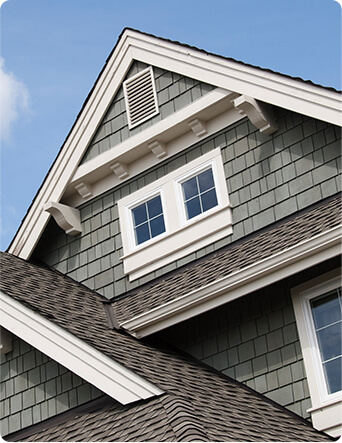 Shakes, scallops, fish scales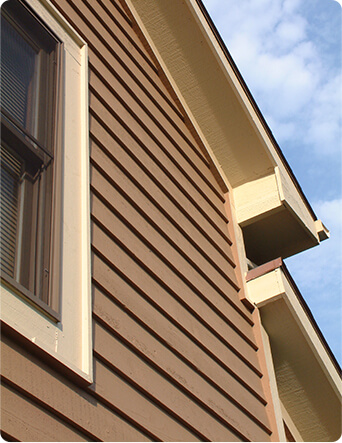 Traditional clapboard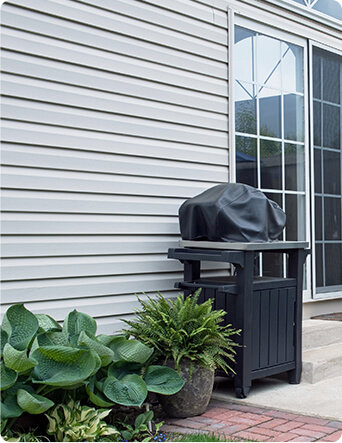 Dutchlap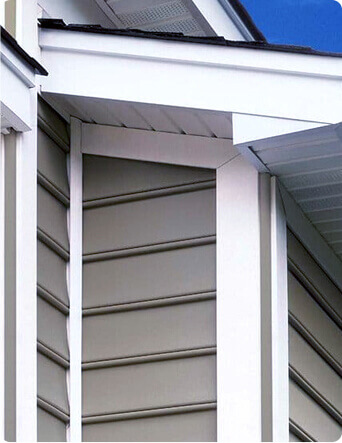 Beaded design
Benefits of CertainTeed Siding
Durable - CertainTeed Vinyl siding can withstand high winds (certified up to 110 mph or higher). The siding composition is also able to resist heat, cold and moisture, so it retains its great looks over time.
No maintenance - Vinyl siding never needs paint. The only maintenance it will need is a simple wash with a soft cloth and garden hose to keep it looking great.
Various color & style options - CertainTeed Vinyl Siding offers the best vinyl siding features and color options, along with exceptional durability and lasting beauty.
Vinyl Siding vs Wood Shingles and Shakes
In better-quality vinyl siding, a wood-grain surface texture can make the product look surprisingly like real wood. Better grades of vinyl siding also tend to be thicker, for improved rigidity and greater impact resistance. At Certitude Home Improvements, we install vinyl home siding to suit your style and budget.
Cement Siding
James Hardie® products require specialized knowledge and tools to properly install and ensure warranty requirements are met. At Certitude Home Improvements, our team members are factory trained and have years of experience installing the full line of innovative products from James Hardie®. We offer full design services, competitive pricing options, superior workmanship and quality installation to increase the beauty, value, safety, and durability of your home for years to come.
They say you only get one chance to make a first impression, but when Certitude Home Improvements installs Hardie ColorPlus siding on your home, you get enduring beauty year after year.
Benefits of James Hardie Siding
Durable - James Hardie® siding is hail resistant, fire resistant and protects your home from extreme weather. James Hardie offers a specialty formulation for northern climates.
Low maintenance - Paint and caulk last longer since the product expands and contracts less. Get the classic look of wood without maintenance.
Best ROI - Year after year, James Hardie® has been rated the best return on investment in the large home improvement projects category.
Green and sustainable - Made of sand, wood fiber, portland cement, & various additives.
Color options - Your house can be finished in the color of your choice, or select a color combination from the factory-finished ColorPlus line.
Warranty-protected - Backed by a 30-year non-prorated, transferable warranty on Plank, Panels, Soffit, and Shingles, 15-year trim warranty and 15-year Colorplus paint warranty.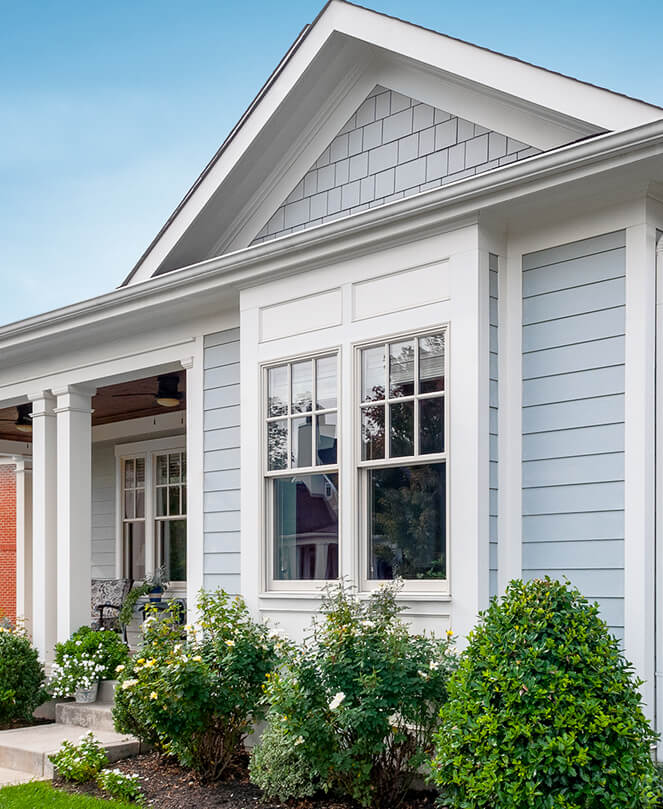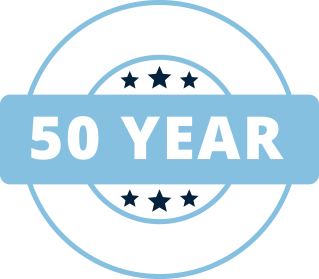 $0 Down

financing available!

Certitude Home Improvements offers a variety of financing options for your siding project. During a scheduled on-site meeting, our team will provide you with an estimate and help you find the financing option that works for you. Each project is also covered by a limited lifetime workmanship warranty, so you know you're getting your money's worth.
Benefits of Installing Insulation with New Siding
If you're planning on replacing your siding or need siding for a new construction job, ask about installing rigid foam insulation. Installing a continuous layer of rigid foam insulation can stop cold winter drafts and make your home more comfortable and energy efficient.
This thicker added layer of insulation improves the R-value of your exterior walls, helping your house to retain heat during winter months, and keeping heat out during the hotter months. A layer of rigid foam insulation can be installed beneath the new siding, or you can buy your siding with the foam already attached to each siding course or panel.
Well-crafted Siding Details
The overall impression created by new siding is as much about trim details as it is the siding itself. The corner trim, J channels, soffit panels, gutters, and downspouts should all work well together. Compatible colored caulks and sealants should also be used. Make sure to discuss these details when planning your new siding installation.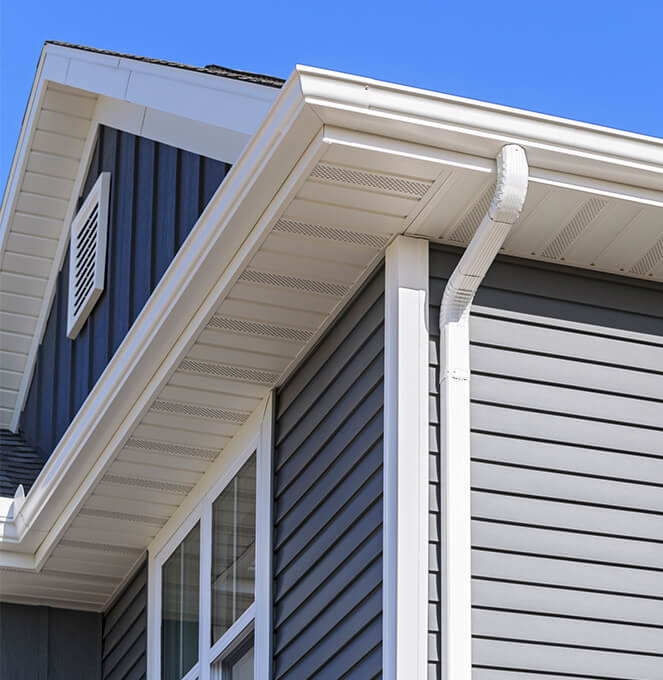 Frequently Asked Questions
How long does vinyl siding last?
Vinyl siding lasts between 20 and 40 years depending on the amount of sun and weather your roof receives.
Is cement siding better than vinyl?
Compared to wood siding, both vinyl and fiber cement are extremely durable. Fiber cement requires more maintenance but offers greater fire resistance. Vinyl siding is more energy efficient but less eco-friendly.
Does new siding add value to your home?
Yes. Replacing old, ineffective or unattractive siding will add value. It's estimated a siding replacement increases home value by 76.7% of the project cost.
Is it worth it to replace siding before selling?
It depends. Siding has a high ROI and increases curb appeal, especially if the siding is old or ineffective. New siding may yield higher offers.
What color siding has the best resale value?
White siding has the highest resale value. However, white siding requires more maintenance because it shows dirt and grime.
I was pleased with the entire new roof process. The estimator was helpful, the estimate was clear, easily understood and the price was right. On the scheduled day the crew arrived on time, the job was done, roof looks great. I was especially pleased that although they removed two layers of old shingles, I found very little debris over the next week while doing yardwork. I would happily recommend Certitude Home Improvements to family and friends.
- John Orlando
Totally professional. Great quality work. Fast service. Always available for communication. Owner gave me his personal cell number in case there were any problems. Not one problem arose. Job done in time specified. Highly recommended company! Company was not the most nor least expensive of 7 estimates.
- James B.
Certitude came to do the estimation one day after I called and that same day they sent me the detailed estimation with very reasonable price. They communicated well to me with the day and time when they will be there to replace the roof. I'm very pleased with the job they have done and definitely I will use them again.
- Zhe R.
Total professionals from the first sales person to the final cleanup. Work was excellent. Price was great. Each step of the vinyl siding process was completed on time. They even installed the rain gutters in a pouring rain to prevent it from running down along the foundation. We could not be happier with the result.
- Lawrence J.
We needed a new roof for years . They replaced it in one day . From what I can see it's perfect . They also custom made four sky lights …..I love them ! The workers were very polite and helpful .My neighbor had a small part of his roof repaired a few days later and it took days .I'm soooo glad Certitude replaced my roof!
- Beverlee T.